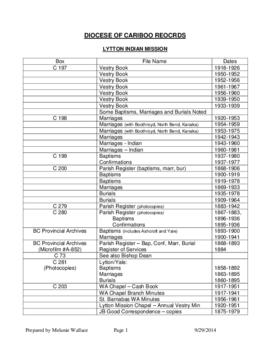 Lytton Indian Mission (Lytton, B.C.) fonds
AADC F-225
Archief
1867-1981
Fonds consists of:
Parish registers, banns register (1897-1919), civil registers (1920-1981), burial register (1909-1964), service registers (1887-1981), vestry records (1896-1927, 1952-1953).
Includes Indian and some white records (up to 1934) from numerous Indian villages and white settlements which comprised the Mission's field of activity, including Ashcroft; Boothroyd; Boston Bar; Cameron Bar; Cisco; Drynoch; Foster Bar; Hope, Christ Church; Inkahtsaph; Kanaka Bar; Lillooet, St. Mary the Virgin; Lytton, St. Bartholomew's Hospital; Lytton, St. George's School; Nicola, St. John the Baptist; Nicomen; N'kamoose; North Bend; Nyshakup, St. Augustine; Pokhaist; Shulus, All Saints; Spences Bridge, St. Michael and All Angels; Spintlum Flat; Spuzzum, Christ Church; Staiyn, St. David; Yale, St. John. Also includes diaries of Archdeacon Richard Small (1886-1906) and photocopies of correspondence of Rev. J. B. Good with the Indian Branch of the Department of the Interior (1874-1879).
Parish registers include: Box I, vol. 1: list of villages, chiefs, watchmen and population ([n.d.], 1876), catechumens, (1867-1868, 1873-1877), candidates for baptism (1877-1880), candidates for confirmation ([n.d.]), baptisms (1868-1883), confirmations (1872-1877, 1881), communicants' register (1872- 1876?), marriages (1874, 1879-1883), discipline (1873-1874), burials (1874, 1879), services (1873-1876). Box I, vol. 2: baptisms (1883-1893), confirmations (1885-1894), marriages (1883-1893), burials (1885-1907). Box I, vol. 3: baptisms (1893-1937), confirmations (1895-1936), marriages (1893-1942). Box II, vol. 4: baptisms (1937-1980), confirmations (1937-1977).
Lytton Indian Mission (Lytton, B.C.)