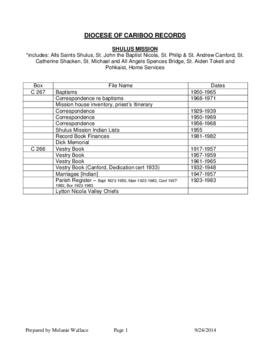 All Saints' Parish (Shulus, B.C.) fonds
AADC F-236
Fondo
1917-1983.
Parish register, baptism register (1950-1965), civil register (1945-1957), service registers (1917-1965), correspondence, financial records.
Includes Canford, St. Philip; Cornwall, St. John before the Gate; Nicola, St. John the Baptist; Nyshakup, St. Augustine; Pokhaist and Toketi, St. Aidan; Spences Bridge, St. Michael and All Angels.
All Saints' Parish (Shulus, B.C.)