Showing 2 results
Archival description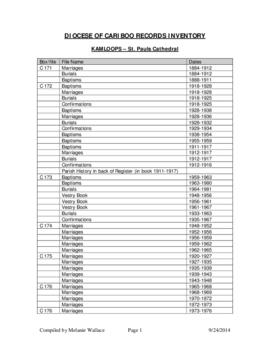 St. Paul's Cathedral Parish (Kamloops, B.C.) fonds
AADC F-223
Archief
1884-1990
Parish registers (1911-1938), baptism registers (1888-1911, 1938-1980), marriage register (1884-1912), civil registers (1920-1987), burial registers (1884-1912, 1933-1981), confirmation register (1935-1967), service registers (1948-1989), vestry and parish council records (1937-1989), building committee records, instruments of consecration, correspondence, reports, financial records, membership lists, women's organizations records, men's organizations records, Sunday school records, choir records, notes, memorabilia, clippings, printed material, newsletters, histories, scrapbooks, guest books, photographs, architectural records.
Early parish registers (to 1912) include Albert Canyon; Ashcroft; Beaver; Black Pines; Cache Creek; Cahilty; Campbell Creek; Cherry Creek; Chu Chua; Clinton; Donald, St. Peter; Ducks (now Monte Creek); Enderby; Grande Prairie (now Westwold); Nicola; Notch Hill; Penticton; Revelstoke; Salmon Arm; Savona; Shuswap; Sicamous; Tranquille; Vavenby; Vernon; Windermere.
Parish registers include: baptisms (1911-1938), confirmations (1912-1934), marriages (1912-1936), burials (1912-1932).
St. Paul's Cathedral Parish (Kamloops, B.C.)